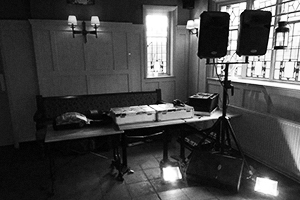 Get On Your Dancing Shoes, There's One Thing On Your Mind
The SoundARC DJs have been DJing in and around Hertfordshire for over 10 years and are available for both private parties and club nights.
We offer something a bit different from the norm (see our favourite bands below), so if you're having a party and are bored of hearing the same old cheesy pop hits and chav anthems, or running a club night or gig and want some 'real' music played once the bands have finished, let us take the reigns and get that floor filled!
We can supply our own 1000w PA system and lights, or we can simply plug into your venue's desk and play through your own PA system.
What Do We Sound Like?
You can expect to hear the best floor-fillers in Rock, Metal, Punk, Ska, 'Alternative' Dance, Grunge, Indie, New Wave, Britpop, Glam Rock & Motown; we do not play chart-topping Pop, R&B, Drum 'n' Bass or Grime... or Scouting for Girls.
Please note, a deposit of half the full payment will be asked for upon confirmation for private parties.
Here are just some of our favourite bands and artists:
AC/DC, Aerosmith, Alice In Chains, Anthrax, Arctic Monkeys, Audioslave, Avenged Sevenfold, Beastie Boys, Beck, Biffy Clyro, Billy Talent, Black Sabbath, Blink 182, Bloc Party, Blondie, Blur, Bon Jovi, BRMC, Buckcherry, Bullet For My Valentine, Cream, CSS, Curtis Mayfield, Cypress Hill, Daft Punk, David Bowie, Deep Purple, Delays, Dexy's Midnight Runners, Dire Straits, Dirty Pretty Things, Doves, Edwin Collins, Elastica, Elvis Costello, Failthless, Faith No More, Fatboy Slim, Fleetwood Mac, Foo Fighters, Fugazi, Garbage, Gigolo Aunts, Glasvegas, Green Day, Guns N' Roses, Happy Mondays, Ian Brown, Ian Dury & The Blockheads, Iggy Pop & The Stooges, Incubus, INXS, Iron Maiden, Jimi Hendrix, Joy Division, Kaiser Chiefs, Kasabian, Kings of Leon, Korn, La Roux, Lady Gaga, Led Zeppelin, Lily Allen, Limp Bizkit, Linkin Park, Lynard Skynard, Madness, Manic Street Preachers, Manson, Marilyn Manson, Marvin Gaye, Maximo Park, Megadeth, Metallica, MGMT, Michael Jackson, Motorhead, Mumm-Ra, Muse, New Model Army, New Order, Nirvana, NOFX, Oasis, Pantera, Paul Weller, Pearl Jam, Pixies, Placebo, Public Enemy, Pulp, QOTSA, Queen, Radiohead, Rage Against The Machine, Razorlight, RHCP, Rival Schools, Rolling Stones, Roxy Music, Scissor Sisters, Sepultura, Sex Pistols, Sisters of Mercy, Slipknot, Snow Patrol, Soil, Soundgarden, Stone Roses, Supergrass, System of a Down, T-Rex, Teardrop Explodes, The Beach Boys, The Beat, The Beatles, The Bellrays, The Bronx, The Buzzcocks, The Charlatans, The Chemical Brothers, The Clash, The Cooper Temple Clause, The Coral, The Cribs, The Cult, The Cure, The Darkness, The Doors, The Hives, The Jam, The Kinks, The Libertines, The Monkees, The Pixies, The Pogues, The Police, The Prodigy, The Rakes, The Rifles, The Rollins Band, The Smiths, The Specials, The Strokes, The Subways, The Supremes, The Undertones, The Vaccines, The Velvet Underground, The Verve, The Who, Thin Lizzy, Tool, U2, Vampire Weekend and many more...